Matthew Stevens | Todd Brooks | Kelly Dixon | Ed Kelb
Marilyn Parnell | Mary Lyons | Bill Greenwood | Derrick Beland |
Officers & Committees Contact Page
---
MATTHEW STEVENS
Matthew Stevens is our Fairway Estates Community Association Board President after a stint as Vice President. He and his wife Raven and three daughters, grandson, and a menagerie moved to Fairway Estates from Colorado in 2014 when he completed his 24-year career in the Air Force.
Matthew was born and raised in Connecticut and graduated from the University of Connecticut. His military career started immediately and provided interesting life experiences that include living in various parts of the US, deployments in Qatar, Iraq, and Afghanistan, the chance to pursue higher education and most importantly, raise a beautiful family. Matthew and Raven fell in love with Dunedin after a family visit to Matthew's brother who lives here. They decided that Dunedin was going to be their forever town, and Fairway Estates their forever community.
After his military retirement, Matthew started a consulting company working with government agencies and local small businesses. Wanting to become involved in his new, and forever community, Matthew began attending Board meetings and one thing led to the next…
---
TODD BROOKS
Todd Brooks joined the Board in 2018 and is now our Vice President. He and his wife Michelle are dedicated UF Gator Floridians who moved their family to Fairway Estates in 2001 after 2 years in Maryland. Each of them has family in Dunedin, so they were very familiar with Fairway Estates and chose well.
Todd and Michelle are both teachers and Todd has taught physics, chemistry, and engineering at East Lake High since moving to Dunedin. When they aren't enjoying summer vacations with their two boys, Todd and Michelle are camping, hiking, stand up paddleboarding, kayaking, and biking, along with other activities. Todd has started collecting bourbons and is a member of the Fairway Estates Whiskey Society.
Todd joined the Board to help continue the Board work being done including the activities that help Fairway Estates be a close-knit community. He is our liaison with the Sheriff's Department focusing on helping to eliminate speeding to make our roads safe for everyone and he has other ideas to help connect neighbors in our community and with our Dunedin businesses.
---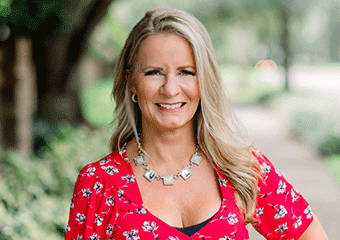 Kelly Dixon
Kelly Dixon has been on our Board since 2014 and has been passionately serving in various capacities since 2015 including Treasurer, Webmaster/Social Media administrator and Special Events Chair. Kelly and husband Gregg moved to Fairway Estates in 2001 from Western New York because they love the area and to give Gregg a convenient golfing location. Kelly has been a full-time real estate agent/
broker since 2009 with over 25 years' experience in the mortgage industry as a mortgage loan officer. She currently works for RE/MAX Action First and in her snippets of spare time enjoys the Pinellas Trail and keeping her adorable Yorkie, Brinley, happy.
Kelly joined the Board because she wanted to get to know more of our neighbors and to give back to our wonderful community. Her current focus is to find ways to help neighbors become more connected and involved by using our social media channels and our fun events. As Treasurer, she clearly sees the benefits of encouraging 100% participation in our neighborhood-supporting dues payment.
---
ED KELB
Ed Kelb, currently serving as Board Secretary, moved to Fairway Estates in 2015 with his wife Rita who happens to be the President of the Fairway Estates Women's Club. When he accepted an IT position in Clearwater, Ed would explore the Dunedin area searching for where he and Rita would settle down.
He fell in love with Fairway Estates when he saw the beautiful homes, yards, and parks. When he would stop and chat with some of the residents, he was impressed with how enthusiastic they were about living in Fairway Estates.
Ed is now retired, but his technical background flavors his approach to Board activities. "I am a firm believer that we should try to do things right the first time," he says because there is a cost otherwise. Ed, a graduate of the University of Michigan, is an Eagle Scout, diver, and grandpa – which he thoroughly enjoys. He wanted to join our Board to help keep Fairway Estates the best place to live in Dunedin. His experience in writing detailed technical documentation makes him a stellar Board Secretary.
---
MARILYN PARNELL
Moving from Hamilton, New York (upstate), Tom and Marilyn Parnell have lived in Fairway Estates since 1995. They care deeply about our beautiful area and believe in giving give back to our community.
Marilyn served two terms as President of the Fairway Estates Women's Club, and Tom served a term as a Fairway Estates Board Member in 2006. — Marilyn enjoys meeting people and is our community's official greeter as Membership Chairwoman on the Board. Marilyn is the perfect person to welcome new neighbors and introduce them to what our Fairway Estates community has going on.
---
MARY LYON
It makes sense that Mary Lyon is actively part of our neighborhood when you learn that she moved to Fairway Estates from Alabama as a child in 1962 when her parents built their home next door to her grandparents – who moved here in 1959! Mary joined the Board back in
2009 and has held several positions: Membership, Secretary, and now as Member at Large.
Mary graduated from Dunedin High School in the 1970s after which she lived and worked in nearby cities before moving back to Fairway Estates in 2007 when her mom passed away. Mary does not slow down and you can see her zipping by in her corvette as she goes to work as a customer service representative at Lancaster Insurance Agency in Clearwater. In addition to sharing her time and energy with Fairway Estates activities, her life is full of social engagements, going to the beach, working out at her local gym, and playing with her two lively dogs.
---
BILL GREENWOOD
Bill Greenwood and his wife Cathy have been Fairway Estate neighbors since retiring from jobs in the northeast in 2011. They picked Dunedin as their retirement community after visiting several times.
Bill started his career as a Peace Corps Volunteer and worked in Peru between 1967 and 1969 assisting local small businesses. His interest in business drove him to become a CPA which he used for 40 years as a financial executive for several midsized companies in the New York metro area. Bill and Cathy, a retired middle school English teacher, have two married daughters and five grandchildren.
Bill joined the Fairway Estates Board in 2016 to better understand the Associations activities and to assist where he could. To further help our community, Bill leads the AARP tax preparation activities at the Dunedin Community Center.   He stays active with tennis, golf (conveniently located in his back yard), visits to Honeymoon Island, and trips to see family in Massachusetts and Montana.
DERRICK BELAND
Derrick Beland was elected to the FECA Board at our annual meeting in February 2019. He and wife Nicole relocated to Clearwater in 2005 from New Jersey. They fell in love with Fairway Estates and moved to our neighborhood in 2017.
Derrick is a software developer for a global IT company, and Nicole is a dedicated special education teacher with Pinellas County Schools. In their spare time, they enjoy bicycling on the Pinellas Trail, walking their 3 rescue dogs, visiting our parks and beaches, and remodeling their home. Derrick wanted to actively participate in our community and volunteered to be elected a board member.
---
COMMITTEE CHAIR BIOS
Newsletter Editors
KATHY O'LEARY
While living in Atlanta, Kathy predicted to her mom that one day she would live on the Pinellas Trail so she could rollerblade. While blading has given way to biking, Kathy is living her prediction.
An Air Force 'brat', Kathy's goal of living in and visiting diverse places has propelled her into career choices where companies paid for many of those explorations.
Kathy graduated from UCF, worked in Florida county government until she expanded her skills into management consulting, and then moved into hi-tech in Silicon Valley where she met her husband Mark. Her international hi-tech marketing consulting business easily moved to Dunedin when they came in 2007. Kathy volunteered as our newsletter editor in 2016 when she decided to retire. Not one to be bored, she became a certified personal trainer, teaches weight loss classes, and is a board member of the Aging and Wellness Institute in Clearwater. You can find her, and often Mark, at the Palm Harbor YMCA when they aren't visiting grandkids in California, visiting Mark's family in Turkey, or exploring the next country on their list.
DIANE GARCIA
Diane Garcia loves living in Fairway Estates and the city of Dunedin. As a way to meet neighbors and learn about this wonderful community, she volunteered to be Co-Editor of the Fairway Focus in the Fall of 2017.
A northeasterner born in Long Island and raised in Connecticut, Diane made Miami her home in 1972 where she raised a son and a daughter and began her 35-year teaching career. She taught biology, physical science, and earth science to gifted middle school students. She also connected children with Florida's natural habitat by writing grants that funded mobile science labs where inner-city students could learn about marine science and meteorology. Diane also started a summer enrichment program for disadvantaged students.
Following her love of nature, Diane guided birdwatching and canoeing trips in Everglades National Park. Once they retired, Diane and her partner Frank moved to Dunedin in 2017 after visiting family in the area.
Diane loves bicycling, dancing, swimming, qigong, baking sugar-free goodies, arranging flowers from Frank's garden and collecting shells on Honeymoon Island. She is a member of the Suncoast YMCA and the Dunedin History Museum.
Beautification
DIANE KERFELD
Diane Kerfeld moved to Fairway Estates in 2017 but has been very familiar with our neighborhood since 2005, when her guy-friend Tom bought a home here. Diane lived in Marietta, GA for over 30 years and before that grew up in the Cleveland area.
Although Ohio will always be her home, she is in love with Florida and the Dunedin area specifically. She feels like Fairway Estates is the best-of-the-best place to live in Dunedin.
Diane is interested in giving back; and in that regard was happy to accept the position as Beautification Committee chairperson. An added bonus is that her hobby is everything-to-do-with-gardening. What a perfect match!
In addition to gardening, Diane enjoys reading, traveling, dancing, biking on the Pinellas Trail, and spending time with family and friends. Please give a wave if you see her and the other Committee people working around the neighborhood entrances and the butterfly garden at Lake Saundra Park.